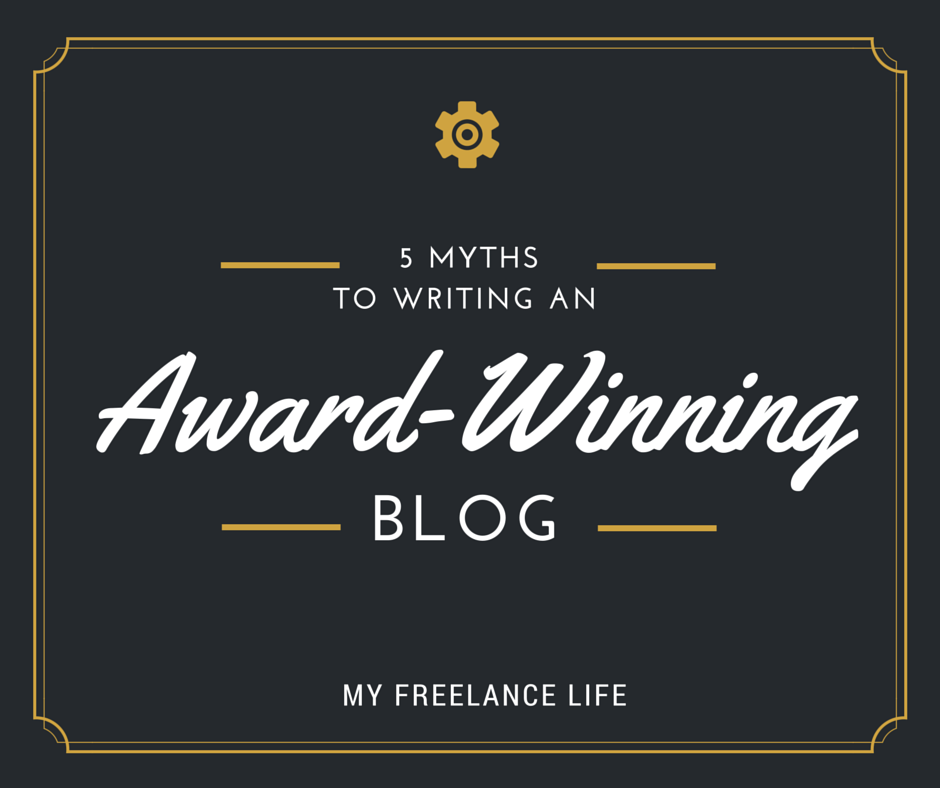 Still reeling a bit from last month's news: I was named one of the top 100 websites for writers by The Write Life. Hugely honored…humbled…all of those kinda big words.
Here's what I thought when I started Googling this subject. I…have no idea. As much as I'd like to share a step-by-step plan to get your blog noticed and recognized all of the things I've learned a good blogger should do? Well, most of those tips I didn't do.
So here are some now apparently busted myths about having a blog that wins:
1)  You don't need a huge email list. I maybe have about 250 followers tops. That's it. I've never had a massive desire to have a giant list, but since I'm considering book writing, that may need to change for me.
Evidence continues to show it's about being vocal. I'm a little blogger with a megaphone. And the folks who read my blog are really awesome and dedicated. That's the difference between me and other bloggers.
2)Being intentional doesn't always work. I've been fortunate to get the eye of popular bloggers, simply from commenting on their blogs. But it wasn't on purpose. I wasn't trying to grab their attention all the time, but when I did, I stayed memorable.
3) You don't have to post every day. Heck, you don't even have to post every week. I committed to one post a month, maybe two, and that was it. I was perfectly fine just sitting on one post and spreading it around for 30 days.
Now if I want to consistently be awarded, I will have to continue to provide super-awesome content. Having less than 50 blog posts probably won't land me in next year's Writer's Digest. But it's time to dream big, right?
4) Epic doesn't necessarily mean long, just well-thought out. I use outlines, and I may not create the post until I'm absolutely sure it's a great topic with at least one "unusual" element – something you may not find anywhere else.
I don't have the gift of sharing well-known info in a totally unusual way. One of my writing mentors, Ash Ambirge can pull out a single point, perhaps something you know in your heart's true, but creates a compelling story around it. Sometimes I come up with a fresh spin on a well-known topic, but that doesn't normally happen.
Generally, I let a post rest for about a day before publishing. Not only do I catch errors, but sometimes I may have an entirely different point to make or something needs to be removed.
That's all you need to have epic content.
5) Being vulnerable until you're uncomfortable is actually okay. Really. Motivational quotes address doing work that makes you feel like you're taking a risk. Talking about risky stuff end up being really popular. I'm a human being. I write about issues that pertain to a small business owner or freelancer's life.
I write what comes out of my head. Sure it gets edited, but what you read is what pops into my head (after that important outline of course!)
That actually sounds really strange writing that down, but it's true.
A lot has been going on since I last posted. Hope to share it with you in the next couple of months. Be on the lookout next month for an awesome interview with Carrie from Careful Cents about finances, just in time for tax day.
What's unique about your writing style that's worthy to be awarded (because everyone who reads this blog probably deserves this honor more than I do. 🙂 ) ?