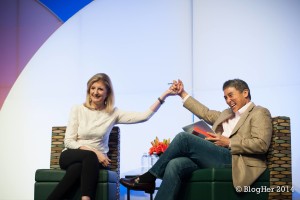 That was a fun chat with Huffington & Kawasaki.
"Exposure? You can die from exposure."
This phrase always gets thrown around whenever someone brings up their desire to get exposure from writing for Huffington Post. I grit my teeth each time I read it.
Of course, it takes guts to ask for what you want from people you aspire to become. But, honestly, you really have to #GetGutsy to talk about HuffPo. I never thought defending an unpaid writing gig would be harder than landing it.
Last summer Arianna Huffington, the site's creator, had a sit-down with entrepreneur Guy Kawasaki at the BlogHer convention in San Jose. The interview was funny and honest. At one point, she said to contact her and gave out her e-mail address.
"Really?" I thought. She must not care about inbox zero.
After the chat, she signed copies of her new book, "Thrive." I already had a digital copy of the book, so I figured I'd just say hi and get to know the folks in line with me.
I suppose that's the first moment I decided to get gutsy.
When it was my turn to meet her, I shook her hand and said I have an e-copy of the book.
"Here, I'll sign my card." She had a stack of them on the table, so she quickly signed her name, and that was that.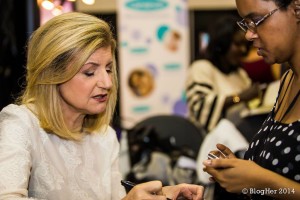 Sweet. I've got her autograph. Into the bag it goes with dozens of other business cards I'd collected.
It was my goal to contact at least five people I met, so I rifled through some of the business cards of people and brands I'd met.
I emailed Arianna. Why not? I'd more than likely get no response or a form response but, shoot, she gave everyone her email. I'm probably not the only one doing this. Gutsy moment number two. I told her I was glad she spoke at BlogHer and wanted to contribute to HuffPo. Check it out: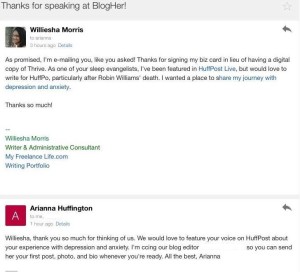 Yep, she replied two hours later and said I'd get a login. In fact, Arianna was the first of only a couple of folks to ever respond. I'd emailed at least a dozen people I met at BlogHer.
That was it. I was a Huffington Post blogger.
To keep from freaking out, I told myself and my husband that was just some assistant responding. Right?
Didn't matter. I was in. (Freaking out commenced.)
When I shared the good news in a BlogHer forum, I was stunned to realize no one else had done this. All these years I thought you needed some epic connection. Turns out, it was great timing. The day she replied, HuffPo launched a new section on mental illness called "Stronger Together." The whole nation was grieving Williams' death, including Arianna.
I realized getting the post published wasn't tough. The new section was calling for reader stories. But I also received the go-ahead to be a recurring blogger. (Getting published once would have been cool, but holy crap!)
Of course, since I'm addicted to Facebook, I posted this and in my little world, the internet went crazy. Tons of likes and congratulatory comments. Those get me through when I tell another writer I got into HuffPo and I can feel them rolling their eyes through the screen.
So, last time we talked about how to create or find a good multi-author blog. I mentioned Huffington Post doesn't really count, because it's a huge media organization with dozens of topics and hundreds of contributors. So if multi-author blogs and other influential sites don't pay for posting, why's there so much vitriol from writers specifically towards the Huffington Post?
I suppose it's a number of factors. Huffington Post is an internet media company that often covers tabloid-like news. Arianna is an extraordinarily wealthy, straight-to-the-point lady who used to be married to a politician. Many people just don't seem to like her very much. I get that. Now that I've seen her speak and read her book, I really don't agree, but it's understandable.
The negativity and downright hatred some writers have for this site seems misguided. Someone said by accepting a gig at Huffington Post, you're ruining the lives of all other writers who want to be paid to write.
Okay, seriously? My heartfelt post about depression means every other writer out there won't be able to feed their families?
Let me be clear. (*in my best Pres. Obama voice*) Writing useless, crappy articles for free or for pennies a word devalues the online writing community. Writing that educates, inspires or changes the reader are invaluable.
Sometimes it reminds me of folks who review a movie before seeing it. (Not so) strangely enough, a majority of the people I've encountered who hate HuffPo have never blogged on the site.
And there's so much more to the site. The Stronger Together section is a huge example of the power they hold to educate others on mental illness. So I'm proud to say I'm a part of it (even if some of my colleagues don't like it.)
Do I have some epic book deal or thousands of followers as a result of this one blog post? Nah. It got 236 social media shares and two comments. Is that enough for me? Abso-friggin-lutely.
Am I going to write for them every week and forgo paid gigs? Um, yeah, no. I love writing, but writing is also my job. I like getting paid. That never changed.
So getting gutsy enough to make the "Big Ask" to influential people (including those others don't like) consists of three steps:
1) Be brief.
2) Be timely.
3) Be impactful.
That's really it. I swear if you Google "How to network with influential people" you'll get maybe a slightly longer version of those three steps. The internet just makes it infinitely easier to connect with people who were once unreachable.
Okay, I know you're thinking, "Well, one and two are a snap, but how can I make an impact?"
That third step can be tough. For me, connecting meant commenting on their blogs, pitching guest posts, promoting their work, following them on social media. I didn't do it because I wanted to rub e-noses with cool people. Often it was because I couldn't afford to pay for mentoring sessions or online classes.
Here's my #humblebrag moment: I'm really good at what I do, and I make it a point to have people remember me.
Sure, after I got to know some of them, being "impactful" also meant constant fawning over how awesome they are and how thankful I am to have them in my corner. (Carol, Linda and Sophie, I'm looking at you!)
But, yeah, you don't have to do that. I'm sorta weird.
I want to hear about some of the people you've connected with that you admire. Tell me in the comments.
Special thanks to Dana Sitar for turning me on to this contest and for being one of those influential peeps who made a difference in my writing life (and happily writes for HuffPo, I might add.)
Photos:  Danielle Tsi Photography and Artistic Shutter Photography