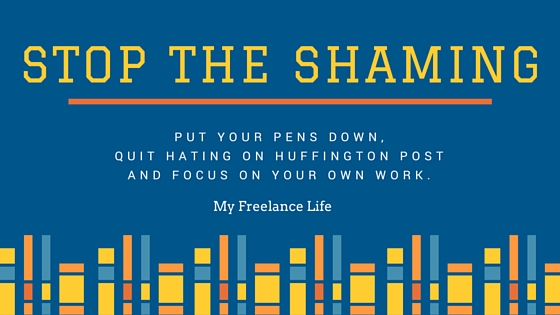 *deep breaths*
I am a Huffington Post blogger. And I am proud of it.
*pauses to check MailChimp for unsubscribes*
Recently, Huffington Post brass said they're proud to have unpaid writers, because they know their work is authentic.
I don't agree with the reasoning behind this. A company leader should never use the words "proud" and "unpaid" in the same context.
But forget about that for now. Let's address the (apparently invisible) blue and white elephant in the room.
I don't just publish for free on the Huffington Post. (And when I do, it's mostly work that's republished from here and my personal blog.)
I've also posted content on LinkedIn's publishing platform.
*dun dun duunnnnn*
And (gasp!) LinkedIn makes money from my work. That's right: a company posting $780 million in revenue can use my work and never pay me.
So why are we hating on Huffington Post, a company that broke even last year with $146 million in revenue?
And, most importantly, why aren't we this angry about being paid crap for companies who force writers, virtual assistants and other creatives to churn out work just to survive?
What I publish on Huffington Post is quality work, because I'm a good writer. There may be a lot of bloggers for HuffPo who aren't that great, and that's too bad.
I do agree that poor quality work hurts the writing community, because it devalues our worth to potential clients.  (Although many bloggers put so much work into their content for HuffPo, they ended up suing the company.)
What say you about some of the content agencies? Google has changed its search algorithm to specifically punish the unadulterated crap that gets put out there as "content."
And may I say once more, most of what I publish on Huffington Post is not original work and, like LinkedIn, I still own the work and can publish it elsewhere.
The original pieces I did weren't very difficult. So HuffPo is a blogging platform that happens to have a large audience.
What's the difference between it and LinkedIn?
"Well, *huff*, they are a media company, so they should be paying its journalists" you say. (See what I did there?)
Most of the top news stories and programming in HuffPo are written by paid employees. And there's plenty of sites who offer unpaid blogging as a way for people to get experience and join a community.
Please don't mistake this for me "settling" for unpaid work. When I write, it's for a purpose and my end goal is to make money. I don't get paid for blogging here, but I do it, because I enjoy sharing my opinions and expertise in hopes of attracting clients.
Writing is my job. Another part of my job is encouraging entrepreneurs to seek out paid guest blogging gigs first. That's the intent of my ebook "4Qs to 1K."
And posting blogs on Huffington Post is in no way affecting your income. I am not responsible for whether or not your work is paying your bills. But if you choose to write crap for pennies, well, that's on you.
I do it, because I enjoy it. I do it, because it's not always easy to be accepted as a blogger there (unlike LinkedIn).
My work is vetted and one time, the vetting process with medical experts was taking so long (it was about the affects of alcohol with anti-depressants) that I ended up pulling it out of the queue and placing it on my blog.
So, no, we aren't allowed to just post whatever we want (unlike LinkedIn).
I thought the online writing community was one of fellowship and encouragement. Why am I being shamed for doing what I love?
I have a friend who creates beautiful paintings and even does art shows, but she's not selling her work. Am I supposed to tell her that what she's doing is horrible and hurting other artists?
Of course not. So I guess I'll just take the hate.
Some of my fellow writers aren't proud of me, but my friends and family are.
And the many people who share in my struggle with anxiety and depression certainly appreciated what I wrote – since that was the first thing I placed on Huffington Post after Robin Williams' suicide.
There are recent, major issues I have with LinkedIn that I can't address quite yet (still an unresolved customer support ticket). Facebook is offering shared revenue when they reveal its platform. Maybe I'll head there.
I'm definitely going to focus on publishing content on Huffington Post and move away from the LinkedIn platform.
That's right. Because of my customer service issue and all of this vitriolic nonsense I intend to publish even more for HuffPo.
Sorry. Your intention to shame isn't working.
Let's hear from you. Do you hate HuffPo because of those comments? Or do you actually enjoy reading or writing for the platform? Where else do you publish your work?