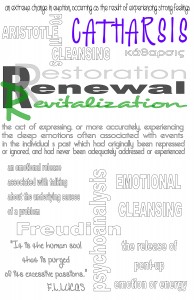 Digging around in the Webverse, chances are you have come across a ton of information about why businesses big and small need to blog.
Better engagement with customers. Higher search rankings. Clear return on investment.
But in months of ingesting everything I've ever wanted to know about blogging, it is only through personal experience have I discovered two important reasons for blogging.
#1 – Blogging creates personal and professional catharsis.
"Catharsis" is one of those 5-dollar words I loved learning in English class when studying drama. Let's apply the definition to blogging (particularly personal blogging).
Catharsis is "the process of releasing, and thereby providing relief from, strong or repressed emotions." Pretty powerful stuff, right?
Release and relief. This is how blogging benefits not just your customers and colleagues, but you too! [Tweet this!]
Much like a personal diary, a public blog can be a way to express opinions and emotions.
Applying this to business blogging is possible! When brainstorming blog ideas, think about the issues and topics pertaining to your blog topic that get you going.
And I don't just mean rants, too. A rave post is even more popular. You can probably come up with at least 5-10 blog ideas just from this technique alone.
For example, topics I'd like to cover in this blog include: getting paid well and fairly, how to work with freelancers in a professional manner, and tips on how to love your blogging audience. All of these topics I feel very strongly about!
Try it today and let me know in the comments how it has helped you.
#2 – Blogging creates public accountability.
Many popular bloggers not only post their goals, they even post their revenue updates. It's pretty bold, I know. It not only serves to show how well they are doing as an encouragement to aspiring bloggers, it serves an even deeper purpose.
Writing it down makes it an insta-goal.
And documenting these goals makes you more accountable to your audience. Whether you have a few followers or thousands, this absolutely works.
When I first started blogging in September, I posted a kind of anti-goal setting/business plan post. The idea of setting goals and creating a business plan isn't wrong. Both elements are vital. The formality is what kills me.
So in the spirit of staying accountable to myself and my readers, let's take a look at my goals and revise them.
1) To provide quality virtual assistance services utilizing my administrative assistant skills and writing skills over the next 6-8 months.
I have had much more success with my freelance writing than with virtual assistance services, but I have had a number of clients and several consultations about being a VA.
My new goal is to network more in person and online when it comes to this side of my business. I think making at least one new contact every week isn't a difficult goal, especially since Twitter is so popular.
2) Will create a brand, possibly utilizing WIL – Where There's a WIL There's a Virtual Way – W.C.'s Investigative and Legal Assistance as my company name over the next 8-12 months.
Here's where things have changed drastically. I have determined that without a completed paralegal education, I will have a difficult time gaining lawyers and private investigators as clients. So I don't think I will be pursuing this brand for now.
I am happy with branding my name and "My Freelance Life.com". I'd like to expand this brand to become more cohesive with my site design and show my personality. This needs to happen within the next 9-12 months.
3) To gain more knowledge in the fields that interest me: writing , paralegal, private investigation in the next 8-12 months. This will coincide with networking with those in the field.

I've done really well with this! Not only have I increased my contacts online, I am developing off-line contacts through my freelance writing and blogging efforts. I still have a long way to go when learning about the legal field. Hopefully in the next 1-2 years I can complete my paralegal certificate and get more private investigator training.
4) To leverage this knowledge, passion and networking to gain a client base (1-5 clients) of small to medium-sized business, particularly investigation and law firms 8-10 months.
Woo hoo! Even though I have not gained any PI or law firm clients, I have had a couple of small business/entrepreneur clients I've worked with a couple of times, and I have one ongoing client. Mission accomplished!
Now it's time to think more long term. Over the next year, I would like at least 2-5 recurring clients. This is going to require much more aggressive marketing on my part, particularly with social media.
5) With my initial income from my first clients, I will upgrade my Web site and increase online marketing (Facebook page, Pinterest) in the next 6-12 months.
Yay! You are looking at my brand new site. I also have a small following on Facebook and Pinterest.
Talk to me in the comments! What are your goals and desires? How are you going to use blogging as a catharsis?
Photo Credit: Act, React or Just Think About It!
Featuring this blog on Make A Living Writing's Link Party! Starting on Saturday, June 6th, vote for it! 🙂