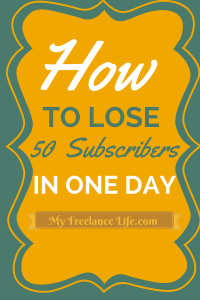 Every time I hit the back button, I just sighed and rubbed my eyes. How long had I been at this? An hour at least.
One subscriber hadn't opened an email in 6 months…another in 8 months…. With each deletion, I felt a little more and more sick to my stomach.
When you've got a relatively small list like mine and you only email monthly, those unsubscribes (yes, even the manual ones) you can't help but take personally.
Purging my e-mail list of folks who hadn't opened my e-mail updates in 5 months or more was absolutely a grieving process for me. Here's how I went through the stages of grief during this time and what you can learn from my mistakes.
Denial and Isolation
I kept clicking around and wondering if I had done something wrong to have so many email subscribers go silent. I'd log out of MailChimp, then log in again.
"Wait. Maybe I have the date wrong? Maybe I sent it to the wrong e-mail address?"
I almost didn't share this info with anyone. But in a Facebook group, I shared my concerns. A colleague told me maybe it's because they weren't selecting "show images," so it wasn't counting as an open.
That must be it. Surely, they can't just be ignoring my emails completely.
Lesson Learned: If you want to know, ask. Don't let what you've perceived as a failure hinder you from getting help.
Anger
That day, I wavered in my simmering anger at myself and my followers.
"Why do I suck so much at this? Why can't I get this right? Why did these people even bother subscribing if they weren't going to open these emails?"
Yes, there were far too many question marks in that inner dialogue.
Lesson Learned: A list is just a list is just a list. Mine is only about a year and a half old. Even if you are behind in your email subscriber goals, don't let numbers tick you off too much. This situation has to be approached with calm and a clear head.
Bargaining
There was a point where I wanted to email all of these people and ask, "What can I do to get you to open these emails? Am I boring you? Please, please, for heaven's sake, come back to me! I'll stop sucking."
Earlier this year, I emailed people who unsubscribed on their own. That was a massive waste of time and energy.
I even tried to re-add the folks I had deleted myself. To no avail. Once they are gone, they're gone.
Lesson Learned: Don't torture yourself  like this. Ever. It reeks of desperation and will only make you feel worse. Just move on.
Depression
Since I struggle with anxiety and depression in my every day life, waves of sadness washed over me throughout the day. I was on the verge of tears.
My husband tried to console me, and I got some encouragement from the Facebook group, but I couldn't help but feel I had let my readers and myself down.
Lesson Learned: Again, you should never let your email subscriber list cause extreme emotion. It's simply fruitless.
Acceptance
Once I finally emerged from that fog of mixed and confused feelings, I tried to pinpoint where I went wrong.
I'm not offering enough value. I'm only giving them monthly blog posts and nothing else actionable. Maybe my first affiliate post was too soon, or it wasn't well thought out. Perhaps I'm not targeting the right people, or my opt-in didn't meet their expectations.
Personal updates and the exclusive Q&A I did with Tom Ewer got the most opens. Perhaps I need to do more of that. Be more open and talk to more people.
Lesson Learned: Hello. Learn lessons. Stop making excuses and accept the fact you haven't done quite enough to grow your list. And that's absolutely okay. Sure, it was probably premature to delete people after 5 or more unopened emails, but I've decided it's for the best.
Take every assumption about what went wrong and turn it into a lesson. Test your assumptions. It's not fair to grieve over losing subscribers when you can gain others and stay true to the ones who have stuck around?
Is there a part of your business you feel has died? Let me know what you are doing to fix that issue in the comments.