Treating others like you wish to be treated in social media isn't always easy or convenient.
And (sometimes) it's easier to put on a good show in your public posts but not in email communication.
But what if you treated email like social media? How you treat others in email has a direct impact on your business.
Making the Case For E-mail As Social Media
Email is quick, easily accessible and, generally, private. That makes it the most intimate type of "social media" out there.
Both email communication and social media can be misconstrued based on length, tone and use of punctuation. Both can create a lasting effect on the sender and receiver.
But with every social media post, there's an opportunity to start anew. The sheer quantity of posts makes an ill-received one forgettable. They are also very public.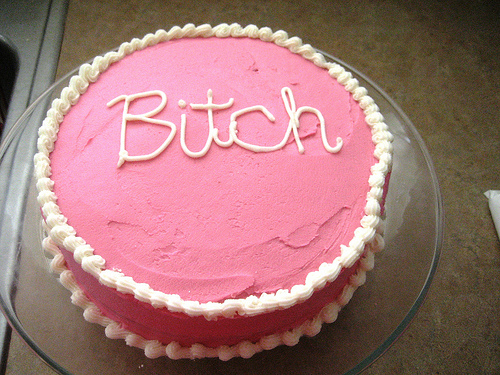 Don't Be a B*tch In E-mail
Poor email communication sticks in the mind of the receiver for an untold period of time. And e-mail is private and taken personally.
Plus, if there's an inconsistent or overly negative tone in your communication as a whole it makes a poor impression.
If you are sending terse, annoyed-sounding e-mails but seemingly kind and helpful social media posts, you are sending mixed messages.
Remember: Conflicting voices = disingenuous. Colleagues and clients want consistency. They don't want to be talked down to, and they want to be treated equally and with kindness.
Before you hit send on that email (or any social media posting), check yourself:
1) Be positive! Count how many negative words or contractions you are using. Words like "don't", "shouldn't" or "wouldn't" must be used sparingly.
For instance, I could have said "Don't be negative." Instead, I chose the opposite. Before you say "I wouldn't," rephrase with "May I suggest".

2) Would you say that to my face?: Read the email or post aloud. Now close your eyes and imagine saying it to that person directly.
If it comes across sounding even slightly sarcastic, angry or rude, start again. Sometimes even your closest friends can take something the wrong way. You should be extra cautious with people who don't know you well in person.
If you don't have time to craft a kindly worded e-mail, write it later.
Yes, I'm giving you permission to not respond to emails immediately! You know the adage, "If you don't have something nice to say, don't say it at all?" This goes the same for email.

3) Practice kindness and gratitude: Sometimes we treat email like our vehicles on the road; It's mine. You will accept what I do.
Unfortunately that's a self-centered attitude.
Roads are more dangerous when you treat driving like it's all about you. The same goes for private or public communication.
When ending an email, say thank you and mean it. Don't answer emails with one-word responses, even if it's in response to a yes or no question.
Before there was Facebook or Twitter, there was e-mail. Integrate a friendly social media "voice" into your email conversations.
Do you practice e-mail etiquette? Do you agree that email is a form of social media? Talk to me about it!