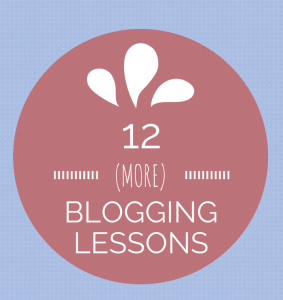 Goodness, all these numbers in the headline! If you missed part one, don't forget to read the first six lessons there.
7) Re-read and re-post old posts for value and posterity.
I don't know about you, but my memory kind of sucks. It relies very heavily on imagery, so if I can't picture it, I can't remember it!
So it's important to go back and re-read and re-post old posts. Not just for a pat on the back. They may need updating (especially those links)!
8) Affiliate links are okay.
There's still a small part of me that feels grimy for using them. But it's the best way to show you're passionate about a product or service. It's kind of like guest blogging. Sure it's cool if you get to write for an awesome blog, but isn't even better when you get paid?
This is where my feelings about affiliates are leading. Maybe in 2015, I'll absolutely love them!
9) Editorial calendar FOR REAL. Again, another awesome plugin I've failed to use. Remember that whole bit about memory? (ha!) This goes for future posts too. I've had ideas I've forgotten about and let way too much time pass between postings.
That's gotta stop for 2015. In fact, I'm considering chatting with the folks in the My Freelance a Life community a whopping twice a month! Once via the blog, and another e-mail post just for subscribers. (*best wooing voice*) Yeeees, you want to join us….YESSSSS, there are e-cookies.
10) My voice is my voice. Yes, I just joined a community yesterday where I can get email templates for different situations. It's awesome, and it's worked! But my voice is my voice. I don't have quite the inventive mind of Ash Ambirge. But I still have me. I'm pretty cool, right? My voice still reaches people, and it can change things. Never doubt your voice.
11) You can ride one post. Writing more frequently is how you draw people to your site, but I'm still perfectly comfortable with sharing one post around to different groups.
Pimping one post for a while is okay. Kind of like how authors have this one brilliant book in them, and they aren't always scrambling to slap together the next one. They show it off for months or even years.
12) Guest blogging works. People always say that, but once you try it, it's true. My guest post on Be a Freelance Blogger was my highest month of traffic ever and with my super awesome opt-in offer, doubled my email list.
It was incredibly cool. I felt like a blogging "authority," if only for that one month. The closest I got to beating my one-day visitor rate was, you guessed it, when I guest blogged again for Make A Living Writing. And I just found out that was a popular post for her that month! (Thanks Carol!) Really happy I've gotten to write for them twice now!
These were just 12 lessons I've learned. As we approach the end of 2014, what have you guys learned? Talk to me in the comments.