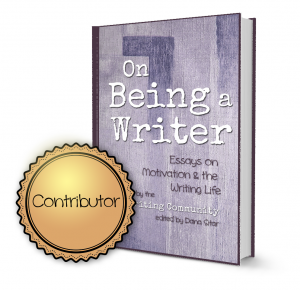 (Or "How I Haven't Made a Dime Off This Site and Look, I'm A Published Author!")
God, I hate affiliate marketing.
It hearkens back to the early internet days, when scammers roamed about. There were miles-long sales pages filled with bold type, stock photos and lots and lots of hype.
"I love this product so much and not just because I'm getting paid to tell you!"
Yeah, right.
Though the web design and copy are much snazzier these days, I will almost always bypass someone's affiliate link and just buy the product directly. Or just not buy it at all.
Even when it's a product I've already bought myself and tried, if I see someone else pitching it, I cringe a bit. I don't know what it is. You'd think I'd be over it by now.
So, yes, as much as I love Marie Forleo and drool over her B-School, scrolling through mega-super-awesome-please-buy bonuses in my inbox and social media feeds constantly was off-putting.
That's just how much I loathe it.
The problem is if you follow someone closely, you can see this type of marketing from 37 miles away. And, of course, if you're a social media lurker like myself, you'll come across these same offers over and over again by people within the same networks. (P.S. – This is how to do affiliate marketing wrong.)
It's exasperating. I tried many years ago when I didn't know any better, but it just didn't feel right to me.
Lately, I have turned down becoming an affiliate from folks I love. Instead, I just share them with folks for free. In fact, I've never even used my e-mail list to sell anything. I usually just ask for feedback on something or for comments and shares for things I've written. I'd feel far too sleazy to do anything else.
Why I Changed My Mind About Affiliate Marketing
So, naturally, when I was brainstorming about this blog (originally titled, "Why I Hate Affiliate Marketing"), an opportunity popped up. If you've been following my blog for a while, you know of Dana Sitar, author of the Writer's Bucket List and founder of DIY Writing.
When she offered to publish my essay in her first collaborative book on the writing life and motivation, I jumped at the chance. I was so excited, I actually created a picture out of the email and shared it with everyone.
But when the book came out, and she mentioned her affiliate program, I hesitated. Of course, her books rock. I offered my first (and still only) contest with one of them. So out of excitement, I shared my success using my affiliate link with everyone and was stunned.
Three sales. In, like, less than thirty minutes.
It was almost as thrilling as being published. Sure, it only made me a few bucks, and I never touted it after the first couple of days. So I haven't made any sales since, but it was so cool.
Why? Because something I contributed to myself was a part of this program. Since the proceeds for the book are going to e-publishing students, this was my way of making royalties.
Since my guest post on Sophie Lizard's Be a Freelance Blogger increased my e-mail list significantly, alas, I have the Golden Opportunity.
So there's my weakness. Even more selfish than simple affiliate marketing, right? Well for me, my contribution to the book makes this whole thing much more legitimate.
New to Affiliate Marketing? Here's a Checklist:
1) Are you associated with this product on a personal level?  If you're not making anything off of it already, but your work contributed to it, then by all means go for it.
2) Who is your audience and how big are they? Evaluate them first. If your audience is in to celebrity gossip, hawking a business start-up book would not be a great thing to pitch. Or if they are a small group, pitching to them constantly gets old. Fast. Trust me.
3) Would you pitch this for free? Be honest. Is it really that good?
4) If you answered "yes" to number 3, try it! Share with no strings attached, at least for a while. I feel pretty darn good about myself when I do.
So now that I'm officially an "affiliate marketer", the link is now part of my portfolio. I hate having the dreaded disclaimer there, but it'll do. Will I participate in other affiliate programs in the future? Eh. I don't know. Maybe I'll have a favorite products page. But for now, my resources page will still be free of affiliate links.
And thanks, Dana. Your work has now created two firsts: my first blog contest and my first affiliate program.