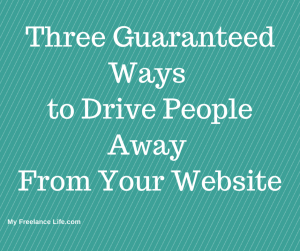 I love web browsing. I mean, really, really love it. As a teenager, whenever someone asked me about hobbies, one of them would be "web surfing." Looking back, that sounded extremely dorky and pathetic, but it was useful! I've learned a lot and it's been amazing to see the changes in website design.
In some recent browsing sessions, I see problems perhaps not obvious to the page's owner but are a serious deterrent to potential clients. It won't matter if your portfolio, blog or services are fabulous if no one sees them!
So when working on your site, check these off your to-do list.
1) Does your website have a giant pop-up window? I hate pop-ups in general, but it's important to check how pop-ups look on PC, tablet and mobile. Sometimes a pop-up that looks normal on a full browser completely blocks entry into your site on a smartphone.
2.) Is your website inaccessible? Millions of internet users (read: potential clients) don't have the ability to see or hear a lot of what's out there. I'm currently reviewing video games for people with disabilities, and it's surprising how many of them fail to consider the disabled.
For example: My site will require a redesign, because red and green makes viewing websites difficult for color-blind people. If you have images or videos on your site, make sure they have captions and alt keywords. Your text shouldn't be super tiny, or you should allow the visitor to change the text size. Make your site's super easy to navigate for people who have mobility problems.
3.) You have automated videos. (And not of yourself!) While I love text-based videos with lots of great color and design, the big idea of web videos is to get a feel for who the person is behind the camera. And I still see a lot of videos that automatically play when you go to the site's home page. This is a huge no-no and, depending on the volume, can startle visitors and literally scare them away.
Everyone's got their own pet peeves when it comes to web sites? What are some no-nos? Talk to me in the comments.