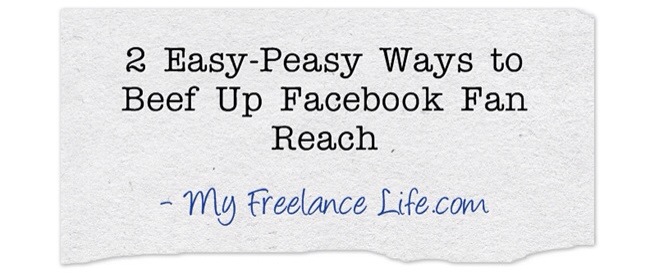 The secret to authentic Facebook fan reach and engagement is revealing your personality and speaking to followers like they are friends, not sales clients.
After all, they expect more than just promotions, customer service and product photos.
Bottom line: Your followers expect you to be human, especially if you are a solopreneur or small business owner.
With constant algorithm changes, reaching your fans without paying for ads is becoming increasingly difficult. Here's how to do it right on the behemoth that is Facebook.
1) Say cheese: If you have a personal Facebook account, you may gripe about the number of baby or food photos someone posts. But remember that instant photo sharing is arguably the greatest benefit to social media.
Did you just celebrate a business anniversary or blog-aversary? Snap a quick pic of yourself with a party hat and noisemaker.
Keep track of company milestones like sales goals or anniversaries and share them with your fans with a cheesy photo. Photos for personal accomplishments aren't off-limits, either.
Social media experts noted the word "Congratulations!" can mean a greater reach for your posts.
Your followers will love it, and (hint, hint!) if you or that team member has a personal account, tagging the photo with the name has just expanded your reach to those friends. Expect to see a major uptick in likes and comments for that post!
2) Share your struggles: This may seem a bit unorthodox, but let's again evaluate your business page like a personal account. There's a balance to displaying your Facebook persona.
Have you ever doubted the validity of posts that are constantly cheery? Ever suffer from Facebook envy afterwards? It happens to the best of us.
Please keep in mind: never, ever stop congratulating yourself or your team on Facebook. This is especially true if you have a small fan count consisting of friends and colleagues. They want to pat you on the back!
However, overdoing it on the self-love (I'd say more than twice per day) can be detrimental. Facebook followers still expect posts from your business page to answer their needs.
Remember the painful case of Amy's Baking Company? After an appearance on Gordon Ramsay's TV show "Kitchen Nightmares," she had a virtual meltdown that made headlines and created the perfect case study for what not to do on social media.
Obviously, you do not want this kind of publicity, and you're alienating your supporters with negative and unprofessional behavior.
But try this little experiment on Facebook:
Say you're having a really rough day, and you'd like to vent, but you don't want your customers to feel the brunt of your frustration. Rephrase your hurt into a fan-friendly update: "Talk about what you do when you struggle with (fill-in-the-frustration)?"
You've accomplished two things: you're engaging your audience with a question and the answers you receive may help you solve your own problems.
The potential impact paid Facebook advertising and promotions can make for your business can't be understated. But don't forget to reveal the real you (for free, too)!
What are some ways you infuse your personality into Facebook posts? Which of these two areas (photo sharing, balancing struggles and successes) are you currently struggling with?