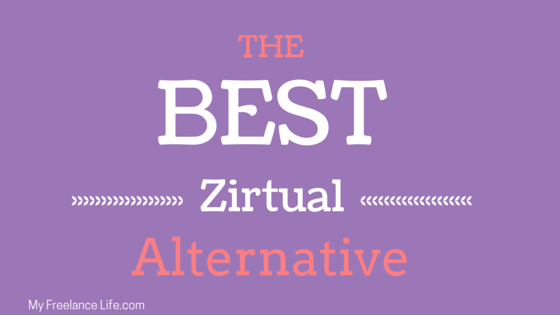 This is going to sound stupidly simple, maybe even a bit controversial.
But the Zirtual shakeup this week reminded me of what happens when mega corporations suddenly merge, get bought out or go out of business.
Your projects are put on hold, and you're left scrambling for a solution.
Much like bidding sites and other companies that depend on "independent" workers, when a virtual assistant company like Zirtual takes a nose dive, the biggest loser is the client.
So if you're in immediate need of a virtual assistant or a freelancer: just use Google.
If you're living in Michigan, search for "Michigan virtual assistant."
If you need a WordPress blogger, Google "WordPress blogger" or "WordPress freelancer."
Look for solopreneur or small companies with up to date web sites, references or verifiable testimonials, a strong social media presence and specific features and benefits for using their services.
And if a company like Zirtual or oDesk pops up: keep scrolling.
Why?
1) Stability and dependability: The availability of your VA or freelancer isn't dependent on the whims of a faceless CEO or jittery stakeholders. One day, Zirtual literally disappears, taking away 400 jobs. The next day, they've been scooped up by another company.
Do you really want to work with a company like this?
Mega companies like Zirtual, Task Rabbit or Virtual Staff Finder and bid sites like Fiverr or eLance have strict regulations on communicating with your team.
Your VA or freelancer will work with you one on one and, save for sick and vacation days, will always be there for you and in constant communication with you.
2) Flexibility (read: middle men suck): I've advocated for online staffing or temp firms in the past, (see my article at the end of this post for more tips) but even those can be unreliable and pretty much just want your dollars.
If you need to use a database to find the right help, look to virtual assistant associations like IVAA or VA Networking. I'm part of the VA League. For a freelance writer, check out The Freelance Writer's Den. 
These organizations are built to be mutually beneficial to both the members and potential clients.
You don't have to buy a certain amount of hours or miss the opportunity to get to know someone one on one.
Several of these organizations offer certification programs, so you know you'll be working with the best, most experienced and most educated people in the world.
Just keeping it real here, folks: you'll never see me advocate any of these massive sites, because you just won't get the value you deserve.
3) Understanding and partnership: When you work with a virtual assistant or a freelancer, you're working with another business owner. A small business owner with the same values and goals as you. Working with a corporation will not give you that kind of camaraderie.
There's no hidden agenda. There isn't an invisible hand grabbing at a percentage of the profits.
Bidding companies and large-scale firms care only about quantity, not quality, and push those values on to their staff. They take on whoever is willing to hawk their services (good, bad or different) and encourage them to take on as many projects as possible.
This is why they can afford low prices to clients. There's no intention of developing a long-lasting relationship with you.
For more of my tips on finding the right virtual assistant, check out my post, "10 Things You Need to Know To Find the Perfect Virtual Assistant" on Career Meh.
As a virtual assistant & freelancer myself, I'm wholly committed to growing your business and not simply line my pockets. The best folks will offer customized packages to suit your needs or refer you to other top notch people. If you need answers, just shoot me an email. 
Let me know in the comments what you think about company shakeups like this. If you're a member of Zirtual, I'd love to hear your story.