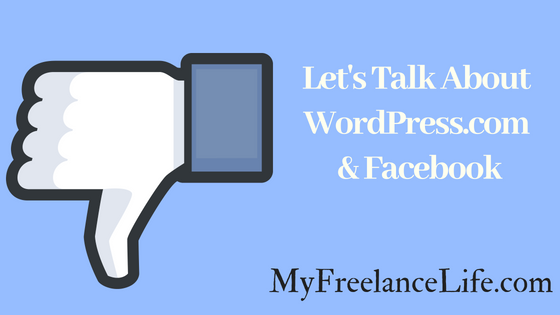 We need to chat about sharing WordPress.com posts on Facebook. I audibly gasped when I read this email from WordPress.com.
"Starting August 1, 2018, third-party tools can no longer share posts automatically to Facebook Profiles. This includes Publicize, the WordPress.​com tool that connects your site to major social media platforms (like Twitter, LinkedIn, and Facebook)."
Why This Sucks
Why is it not good that it's okay to post automatically to Facebook pages and not personal Facebook profiles?  (Note this is for any third-party tool, not just WordPress.com's Publicize.)
Update: Note this is for any third-party tool, not just WordPress.com's Publicize. This will more than likely affect Hootsuite, Buffer or anything else. Will update this post as I learn more information.
Any of you who have a Facebook page will understand how tough it is to get traction on there without paying for advertising. I almost always share posts to both my page and my profile to get more views. The fact that you can only post to your page automatically is a huge indicator Facebook wants to focus on getting your money.
What Can You Do About This Change?
The "fix" is simple, of course: copy and paste the URL into Facebook. But haven't you already noticed less traction for any outside links on Facebook?
Facebook is already in a lot of trouble for sharing our data, and kneecapping WordPress.com bloggers is not a good look.
What are your thoughts on this? Talk to me in the comments below.